Achieving carbon neutrality
Measuring and understanding our carbon footprint
Working alongside with ClimatePartner, we gathered reliable data to measure our carbon emissions at our Hamburg site to fully understand our end-to-end value chain impact. 
The carbon footprint of our Hamburg business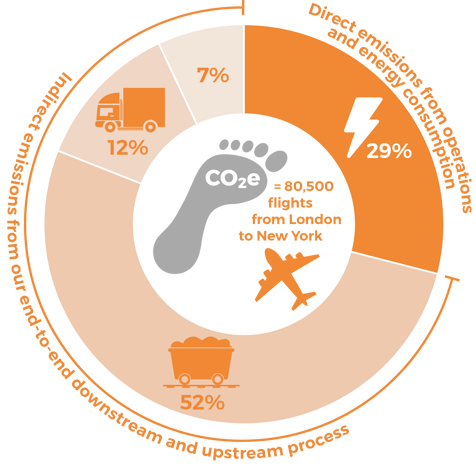 All calculations are based on guidelines of the Greenhouse Gas Protocol, an internationally recognised framework. 
Ohly's decarbonisation roadmap
Measuring our total end-to-end value chain carbon emissions in Hamburg guided our technical experts to extend our carbon-saving activities and build a solid decarbonisation roadmap with future carbon reduction plans across five key modules: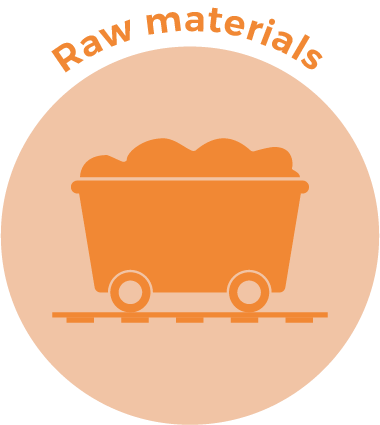 Our decarbonisation roadmap includes investments in projects to implement new and improved manufacturing processes at our Hamburg site. These activities will reduce our energy consumption and emissions from the use of raw materials. While some carbon-saving activities are already under implementation, such as switching to renewable electricity and building e-charging stations in 2022, other measures will be implemented by 2030.
Since we know that our indirect emissions through sourcing raw materials comprise a big part of our total carbon footprint, we will be engaging with our suppliers to co-develop aligned targets for carbon reduction.
At a glance: Ohly's decarbonisation roadmap for our Hamburg site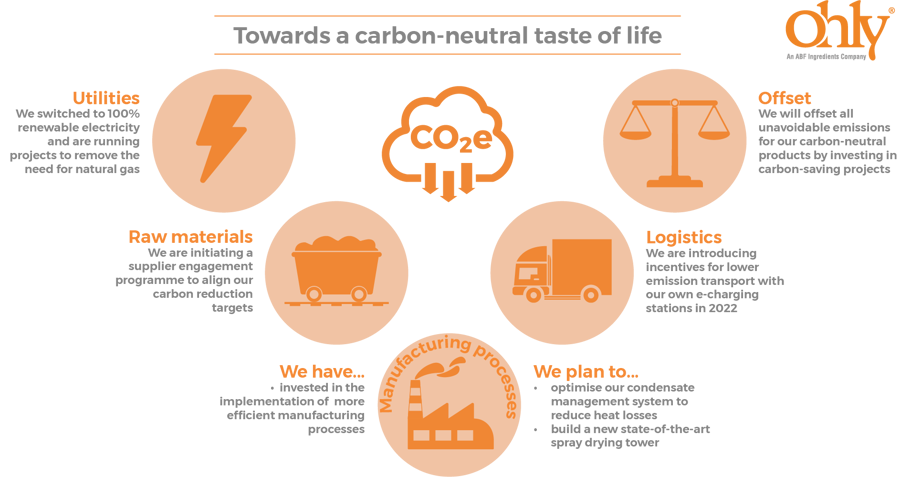 Tackling carbon neutrality step by step
We're putting measures in place to operate our Hamburg site as net-zero by 2030. This involves a process of avoiding and reducing carbon emissions across our sourcing, production and distribution activities. For any remaining emissions after these measures, we'll invest in carbon offsetting projects to neutralise the balance of emissions.
Operating as net-zero is an ambitious goal that demands innovation and commitment from our whole workforce. We're tackling the challenge step by step. Since 2018, we've monitored carbon emissions from our direct operations and emissions associated with our energy consumption, allowing us to track our progress as we implement avoidance and reduction measures.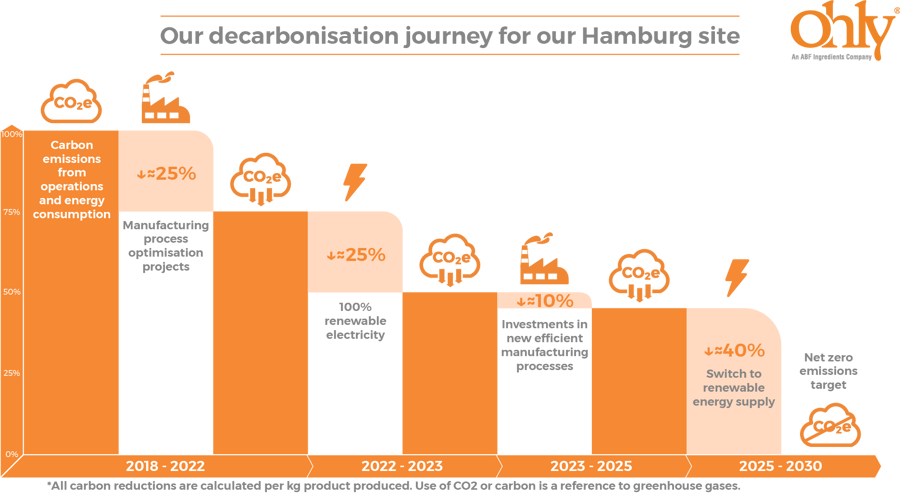 In 2021, we raised the bar on our approach to managing our carbon footprint. Together with carbon reduction experts at ClimatePartner, we measured the total end-to-end emissions across our Hamburg value chain, including sourcing of raw materials to the transportation of products, disposal of our products to packaging and employee commuting, based on the guidelines of the Greenhouse Gas Protocol, an internationally recognised framework.
Understanding this broader picture has enabled us to develop a solid decarbonisation roadmap. Within our roadmap, we plan to:
take measures to avoid, reduce and offset the emissions created during the production of our products
achieve net zero emissions at our Hamburg site by 2030
reduce end-to-end value chain emissions wherever possible
address our business-related emissions at our USA site from 2023.