Effective Plant Protein Solutions
Yeast-based vegan flavour solutions that deliver authentic taste and texture for a variety of alternative protein products.
Worldwide meat consumption continues to drop in response to concerns about environmental impact and animal welfare, as well as health. Vegan, vegetarian and flexitarian lifestyles are becoming increasingly popular.
Delivering convincing taste and texture remains a key challenge when developing plant-based alternatives. Consumers ask for natural, healthy alternatives with an authentic taste and mouthfeel. (Innova, 2023).
How yeast extracts can help you create successful alternative protein products
| | |
| --- | --- |
| Improving taste and texture | Ohly's range of versatile yeast-based ingredients deliver authentic taste and texture ideal for alternative protein products. |
| Enhancing nutritional value | Ohly nutritional yeasts contain a wealth of vitamins, minerals and proteins. |
| Providing healthier options | Ohly's yeast-based solutions enable salt content reduction of up to 40% without compromising  on flavour richness. |
| Lowering environmental impact | We work with ClimatePartner to offer carbon-neutral yeast-based ingredients. |
Although nobody doubts that plant protein is more environmentally friendly and sustainable, making it taste as good as meat can be a real challenge.
We harness the natural flavours of yeast to both deliver meaty notes and mask any undesirable off-notes from the plant protein. Plus, we also make sure that your products have that juicy and fatty mouthfeel of meat, which can be so hard to replicate.

Best of all, you only need to add a little to your products: our solutions work incredibly well at low dosages.
Key taste functionality for alternative protein products
Our application experts have developed a comprehensive range of ingredients and flavour tools which will work to build flavour foundations, highlight key notes and enhance mouthfeel.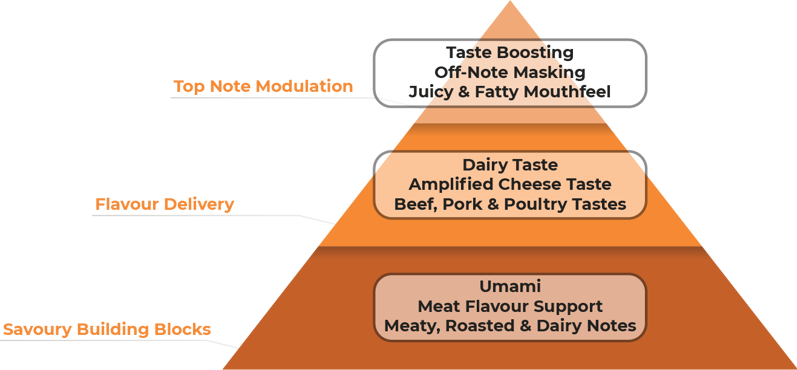 What makes Ohly a popular choice for food applications?
Our work with plant protein solutions is a fine example of our innovative approach and commitment to addressing sustainability challenges. We're keenly aware of the need to embrace new consumer trends and engineer new products to meet consumer demand. That's why we devote great time and effort to research and development.
Of course, we also apply our expertise and insight to improving existing products and optimising processes. This ensures that we produce ingredients of the highest quality, as demonstrated by the certifications we hold from numerous standards organisations. You can trust in our products.