Planet
We care about the planet by using resources efficiently, reducing carbon emissions and providing solutions that allow our customers to reduce their carbon footprint through our products.
Protecting the planet needs businesses to reassess how they operate. At Ohly, our changes start with engaging our people. Their planet-first ideas have already improved operational efficiencies, material sourcing and logistics. Environmentally friendly thinking has become embedded into everything we do. Our dedicated engineering experts continually work on process optimisation to produce more from fewer resources and reduce our carbon emissions.
We assessed our sustainability activities against the United Nations' Sustainable Development Goals (SDGs). We identified SDG 12 and 13 as where we have most positive impact through our environmental activities.


______________________________________________________________________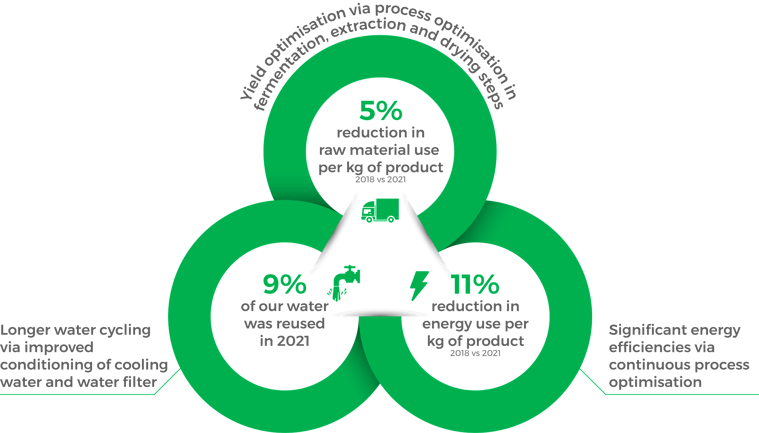 Our journey to net-zero
Since our company was founded, we have always strived to use natural resources efficiently and effectively managed our impact on the environment. Now, we're accelerating our efforts. In 2021, we set an ambitious plan to operate a net-zero GHG emissions site in Hamburg, Germany by 2030 and build a portfolio of carbon-neutral products. We believe that our journey to become net-zero will demonstrate our commitment to care for the planet, and reduce our costs and our dependence on global energy markets. It will also mean we become the first to supply a carbon-neutral yeast-based ingredients portfolio to our customers and support them in their carbon reduction plans.
As a first step towards net-zero, in 2021 we measured the total end-to-end carbon emissions associated with our Hamburg site together with ClimatePartner. This measurement guided our technical experts in developing a robust decarbonisation roadmap that incorporates our existing carbon-saving activities and future carbon reduction plans.